The Very Venerable T.T. Thích Minh Nhat
(Sensei Daniel Nagacitta Buckley)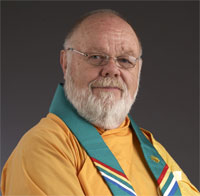 A former Catholic and Quaker, he found a spiritual home in Buddhism in 1983, when he took a course at the International Meditation Center in Los Angeles. In 1985, he took refuge, receiving the name Nagacitta Karuna. In 1992, Sensei Nagy was ordained as a Sramanera and in 1994, was fully ordained in the Vietnamese Rinzai Lam Te Zen tradition and given the name of Thich Tam Hue. He trained intensively under the Thich An Giao Roshi, Abbot of the Desert Zen Center in Lucerne Valley CA, from whom he also received Soto Zen ordination in the lineage of Matsuoka Soyu Roshi. Upon completion of his training period, he was given the title Dai Duc and the freedom to chose his ministry.In July of 2010, Ven. Tâm Hue was transmitted the Dharma Mind Seal by the Most Venerable Thích Ân Giáo Roshi, and was given the title of Great Master under the name Thích Minh Nhat.
Sensei Nagy adopted the Zen Center of Los Angeles as his second practice home in 1997. He enjoyed giving Dharma Talks, offered private interviews with students for a number of years, and wholeheartedly supported the Zen Center community.
For his ministry, Sensei Nagy chose the path of social action. Inspired by Thich Nhat Hanh and Roshi Bernie Glassman, he founded the Strawberry Dragon Zendo. Its primary focus was the Prison Project, which served eight prisons in Southern California. Sensei Nagy was also deeply involved in interfaith work, and his many service offerings included hospital chaplaincy and the Futures for Children Native American project with the Navajo Nation.
Nagy trained as a Rehabilitation Therapist, received a degree in Psychological Counseling, and worked for the California State Department of Mental Health until his retirement in 1995. He was married to his beloved wife, Gail, and had two sons and two grandchildren. He loved to study history and world religions and, with his wife Gail, was a world traveler.
For the interview with Sensei Nagy in the latest Water Wheel, click here.